Keep your wings and other important parts of your Embraer EMB 110P1 Bandeirante safe with our FAA-Approved boots.
The Embraer EMB 110P1 Bandeirante is a Brazilian general-purpose aircraft with twin-turboprop engines designed for military and civilian use. This model is a variant of the Embraer EMB 110 Bandeirante, first developed by French Engineer Max Holste in 1965. The 110P1 was introduced in 1973 and was a quick-change civilian transport vehicle with a rear cargo door. Other variants were released that removed the cargo door. These were produced until 1990, when an upgraded version, the Embraer EMB 120 Brasilia, was released. Embraer built 494 EMB 110 aircraft in different variations. Its primary use case is for private, civilian, and military transport.
The Embraer EMB 110P1 Bandeirante seats one to two crew and can hold 15-21 passengers. The 110P1 is a sizeable civilian aircraft with a wingspan of over 50 feet and over 49 feet long. The plane has a max cruise speed of 255 mph and a range of 1,220 miles.
Our boots include fast delivery, a 3-year, no-hassle warranty, and guaranteed compatibility for existing configurations.
Plane Diagram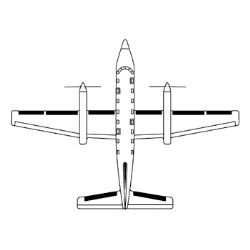 FAA STC/PMA Approved De-icers
Qty

SMR P/N

UTC/BFG P/N

UTC/BFG P/N
Location
Standard Boot
PSA Boot
1
SMR5158-05
P29S-5D5158-05
Outbrd Wing LH
N/A
N/A
1
SMR5158-06
P29S-5D5158-06
Outbrd Wing RH
N/A
N/A
1
SMR5158-03
P29S-5D5158-03
Inbrd Wing LH
N/A
N/A
1
SMR5158-04
P29S-5D5158-04
Inbrd Wing RH
N/A
N/A
1
SMR5158-01
P29S-5D5158-01
Fus to Nac LH
N/A
N/A
1
SMR5158-02
P29S-5D5158-02
Fus to Nac RH
N/A
N/A
1
SMR5158-07
P29S-5D5158-07
Horz Stab LH
N/A
N/A
1
SMR5158-08
P29S-5D5158-08
Horz Stab RH
N/A
N/A
1
SMR5158-09
P29S-5D5158-09
Vertical Fin
N/A
N/A
2
SMR1683-1
5E1683-1
Engine Inlet
N/A
N/A
---
Documentation
Wing Boot
48 hour delivery for Standard Boots and 72 hour delivery for PSA boots in the Continental US and ground shipments to Canada.
Interchangeable with existing de-icers.
Fully Compatible with existing air supply systems.
| | |
| --- | --- |
| Aircraft | Embraer Bandeirante 110 EMB-110 P1 |
| Classification | Wing Boot |
| Full Description | |
| Standard Boot: | |
| PSA Boot: | |
| BF Goodrich P/N: | |
| Safeway P/N: | |
| Rapco P/N: | |
| Airframe P/N: | |