Aircraft De-Icing Hardware
Ice Shield offers a variety of de-icing hardware components required to operate your aircraft de-icing system equipment. Our hardware includes inflate/deflate valves, pressure-regulating valves, ejector flow control valves, and brush blocks. Our two-year, no-hassle warranty backs all Ice Shield hardware components. Every day, we work harder to become your one-stop shop for all your aircraft de-icing and anti-icing hardware needs.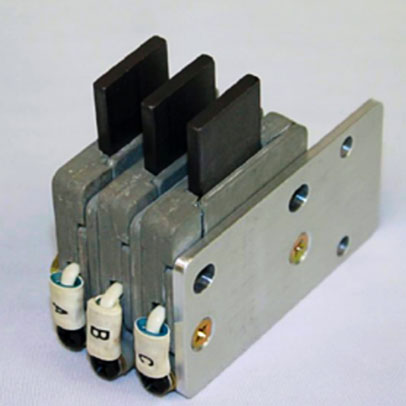 Ice Shield's Features & Benefits
Faster
No 60–90-day lead times
Quick installation
Better
Easy, direct access to technical support
Granted Parts Manufacturer Approval (PMA) by the Federal Aviation Administration (FAA)
Frequently Asked Questions
What is the purpose of the anti-ice control valve?
The anti-ice control valves help manage the system by controlling the airflow from the pneumatic system into the ducts of the plane's boots. When turned on, the de-ice control valves open, and the deflate valve energizes and closes, routing pressurized air through the control valves and into the boots.
Ultimately, the control valves run the mechanical system to ensure ice breakup on wings.
How do inflate and deflate valves help regulate air?
Inflate and deflate valves regulate air when the plane is not in use. Deflate valves deflate the air from the boots to allow the biggest change in size when the boots are inflated. Simple de-ice systems often don't use more than one deflate and inflate valve. When the valve closes, the boots are delivered air. When the valve closes, air deflates through vacuum pressure.
This function is often built into other parts of the de-ice system, like the distributor valve.
See our article about aircraft de-icing questions here for answers to more questions we get asked often.