Engine Inlet and Horn De-Icing Systems
Ice Shield's engine inlet and horn de-ice boots are designed to stand the test of time in various hazardous weather conditions. Our engine inlet and horn de-ice boots are engineered with durability and quality and built to last. Our tapered-edge design and textured bond surface make installation easy. We also ensure a long lifespan with our rain and sand erosion protection granted by the Aeroguard™ surface technology. We even offer a wire-wound pattern for select products. Protect your engine inlets from dangerous, icy weather with the robust and rubberized cover from our engine inlet cover.
Our products are available for various aircraft, including Beech King Air (90, 100, 200, 300), DeHavilland DHC-6, Dorner 328, Piper Navajo, and Embraer 110. Ice Shield's engine inlet and horn boots are in-stock and available for all our certified aircraft. Protect your engine inlets and horns today with the best anti-ice systems from Ice Shield.
Check out our full range of engine inlet anti-icing systems here.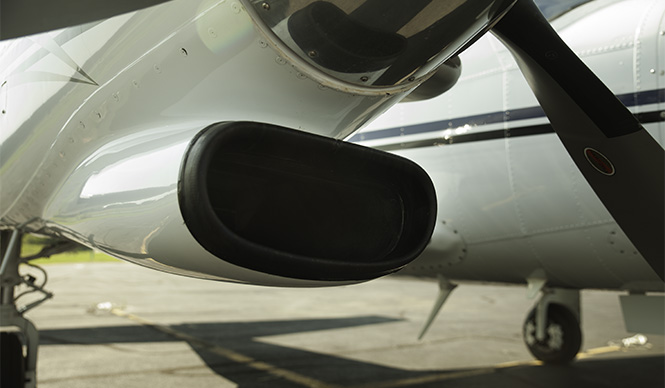 How do Engine De-Icing Systems Work?
Engine de-icing systems protect engines from collecting dangerous ice around the engine inlet. Rain, snow, and freezing fog can all contaminate the engine inlets of a plane, which can cause engine damage, incorrect flight deck instrument indications, or compressor stalling/surging during the flight.
These pneumatic anti-ice systems inflate and deflate using compressed air to break up the ice around the nacelle. These systems are designed to prevent ice buildup on the air intake opening of the engine nacelle. However, it does not prevent ice buildup in the inner sections of the engine.
What is the difference between anti-icing and de-icing?
The difference between anti-icing and de-icing is that anti-icing equipment prevents ice from forming on your plane. You enable this technology during your pre-flight preparations. Anti-icing measures can include applying chemicals to the wings to prevent ice from building on surfaces. De-icing equipment is designed to combat ice buildup once it accumulates on the plane's frame somewhere. These can include pneumatic anti-ice systems that inflate and deflate tubes to break up ice or the application of heat distributed along the plane's wings where ice accumulates typically.
See our article about aircraft de-icing questions here for answers to more questions we get asked often.
Ice Shield's Features and Benefits
Faster
Better
Wire-wound pattern available
Tapered edge design for easy application
Superior aerodynamic transition
Textured bond surface for excellent adhesion
Built to survive rain and sand erosion with Aeroguard™ surface technology
Smarter
Easy, direct access to technical support
Best value for engine inlets and horn de-icers
Granted Parts Manufacturer Approval (PMA) by the Federal Aviation Administration (FAA)