Keep your wings and other important parts of your Piper PA-31P-350 Mojave safe with our FAA-Approved boots.
The Piper PA-31P-350 Mojave is a civilian utility aircraft with Lycoming, a twin-engine build produced between 1983 and 1984. These were only made during the economic recession and were the last in the family of PA-31 aircraft. Fewer than 100 of these aircraft were ever manufactured. Due to low demand, the Mojave was subsequently discontinued. Its primary use case is private transportation, hobbyists, and aircraft training.
The PA-31P-350 Mojave seats one to two crew and can hold five to seven passengers. The Mojave is large, with a wingspan of almost 41 feet and a length of 32 feet and 7 ½ inches. The plane has a max speed of 261 mph and a cruise speed of 238 mph.
Our boots include fast delivery, a 3-year, no-hassle warranty, and guaranteed compatibility for existing configurations.
Plane Diagram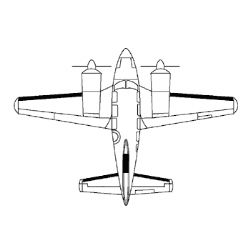 FAA STC/PMA Approved De-icers
Qty

SMR P/N

UTC/BFG P/N

UTC/BFG P/N
Location
Standard Boot
PSA Boot
1
SMR5026-03
P25S-7D5026-03
Horz Stab LH
N/A
N/A
1
SMR5026-04
P25S-7D5026-04
Horz Stab RH
N/A
N/A
1
SMR5026-05
P25S-7D5026-05
Vertical Fin
N/A
N/A
1
SMR5026-06
P25S-7D5026-06
Nac to Tip RH no stall speed indictor
N/A
N/A
1
SMR5026-07
P25S-7D5026-07
Fus to Nac LH
N/A
N/A
1
SMR5026-08
P25S-7D5026-08
Fus to Nac RH
N/A
N/A
1
SMR5026-11
P25S-7D5026-11
Nac to Tip LH
N/A
N/A
1
SMR5026-12
P25S-7D-5026-12
Nac to Tip RH
N/A
N/A
---
Documentation
Wing Boot
48 hour delivery for Standard Boots and 72 hour delivery for PSA boots in the Continental US and ground shipments to Canada.
Interchangeable with existing de-icers.
Fully Compatible with existing air supply systems.
| | |
| --- | --- |
| Aircraft | Piper PA-31 Mojave (PA-31P-350) |
| Classification | Wing Boot |
| Full Description | |
| Standard Boot: | |
| PSA Boot: | |
| BF Goodrich P/N: | |
| Safeway P/N: | |
| Rapco P/N: | |
| Airframe P/N: | |